HOME | ORDER NOW/ORDER POLICIES | ABOUT US | SITE MAP

Groove Gear™ by University Apparel, Inc.
Providing "premier gear" and paraphernalia for the exclusive use of the
Groove Phi Groove Social Fellowship, Inc.® since 1988
Swing-Style is BACK...Serving the Sisters of Swing Phi Swing Social Fellowship, Inc.®
---
Groove Gear Home Page
---
This website was developed by University Apparel, Inc., in conjunction with National representatives, and is dedicated to providing quality paraphernalia exclusively for the Fellowmen of Groove Phi Groove Social Fellowship, Inc.®
Here, you will find everything for Groove Phi Groove®, from Bags & Caps to Shirts to Jackets to Novelty Items......Swing Style™ is back....
---
University Apparel, Inc. Company Profile
University Apparel was started in 1988 to provide the highest quality lettered sportswear and novelties for specific fraternal groups and organizations. Since our inception, we have been dedicated to producing and supplying new items for Groove Phi Groove®. More recently, in working closely with the National Office, we have increased our product line to include more sportswear and unique design options for the Fellowmen of Groove Phi Groove®.
We also offer items for Swing Phi Swing Social Fellowship, Inc.®, as well as a product line for Groove Gems.
---
Contact Information
Store Address

Store Hours

FRATERNAL REGALIA
by University Apparel, Inc.
8120 Mall Parkway STE 425
Lithonia, GA 30038

Monday - Friday
10:00 am to 6:00 pm
Saturday
10:00 am to 4:00 pm
Telephone Customer Service Hours:
Monday - Friday - 11:00 am to 5:00 pm
Saturday - 11:00 am to 4:00 pm
Phone:
404-835-0839
Electronic mail:
Click here to send us an e-mail
---
Thank you for Visiting our Groove Gear site.
You are visitor
Please sign our public Guest book by clicking here.
IN GOD WE TRUST.
WE SALUTE OUR MEN & WOMEN IN UNIFORM
AND PRAY FOR THEIR SAFE RETURN.
Privacy Statement/Terms of Use
---
[ Directory | Shirts | Long-Sleeve Shirts | Sweatshirts ]
[ Sweaters | Jerseys | Jackets ]
[ Bags & Caps | Blankets | Novelties & Gifts ]
[ Symbol Selections |Lettering Styles ]
[ ORDER NOW | Request an Order Status ]
[ G-Gear HOME| About Us | Sign our Guestbook ]
[ back to TheGREEKSHOP ]
[ Groove Phi Groove National Homepage ]
Privacy Statement/Terms of Use
G-Gear/Groove Gear by University Apparel, Inc. is a division of University Apparel's fraternal line of sportswear and novelties for Groove Phi Groove Social Fellowship, Inc.®
For more information about this website, please contact the webmaster.
The items shown on this website are not marketed nor offered for sale as ready-made or in-stock retail items for any specific organization, unless specified as such. Photos are shown as examples of the work that may have been done in the past and/or that may be made for your particular fraternal organization.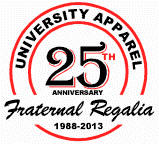 Copyright © 1997-2021 [G-Gear/Groove Gear and University Apparel]. All rights reserved.
Information in this document is subject to change without notice.
Other products and companies referred to herein are trademarks or registered trademarks of their respective companies or mark holders.
Greek and Non-Greek letters, name, or insignia of particular fraternal organizations are not necessarily being sold under a license or other sponsorship from those organizations. It is the product manufacturers' intent that sales be only to and/or for members or pledges of the represented fraternal organizations.
"Special order purchases from local vendors are tantamount to a consent to use agreement or a limited license..."
Sarah Evans Barker, Judge, United States District Court, Southern District of Indiana
So ordered, 25 October 2004

Providing the best Groove Phi Groove® Gear and Paraphernalia items, since 1988.
Swing-Style is BACK...Serving the Sisters of Swing Phi Swing Social Fellowship, Inc.®