SPIRIT WEAR
by J-TWO Sporting Goods
Welcome to J-TWO Sporting Goods! This is your on-line connection to school and team "spirit" wear.

Here you will find everything to proudly display your school, to show your home-town pride, or to root on your favorite team!
Items are available for students, players, boosters, or parents.
Click the logo below to enter:
---
Contact Information
Store Address:

In-Store Hours:

FRATERNAL REGALIA
by University Apparel, Inc.
2512 Mount Holly Rd
Burlington, NJ 08016

Monday - Friday
10:00 am to 6:00 pm
Saturday
10:00 am to 5:00 pm
Telephone Customer Service Hours:
Monday - Saturday - 11:00 am to 5:00 pm
Phone:
609-871-3601
E-mail:
Click this link to e-mail us for any questions you may have.
For Driving Directions to BURLINGTON, NJ=>

---
Please note: we are NOT a wholesaler, and our primary business is the sale of lettered sportswear and pre-packaged novelties to the end user. While we offer some pre-made collegiate novelty items, we do NOT produce or manufacture products in-house for CLC-licensed Colleges or Universities nor for professional sports teams (ie: MLB, NFL, NBA, NHL, etc.).
---
[ J2SPORTS Home | Directory | Caps & Scarves | Bags | HBCU Selections ]
[ Aprons | Blankets | Jewelry | Satin Stoles ]
[ Lettering Styles | Symbols ]
[ T-Shirts & Polo Shirts | Long-sleeve Shirts | Sweatshirts ]
[ Jerseys | Sweaters | Jacket Selections ]
[ Order NOW | Contact US | About Us | University Apparel, Inc. ]
Privacy Statement/Terms of Use
J2SPORTS is a trade name of J-TWO SPORTING GOODS, founded in 1996, which is a subsidiary of University Apparel, Inc. For more information about this website, please contact the webmaster.
The items shown on this website are not marketed nor offered for sale as ready-made or in-stock retail items for any specific organization, unless specified as such. Photos are shown as examples of the work that may have been done in the past and/or that may be made for your particular organization.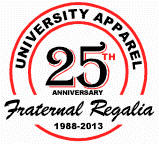 Copyright © 1999-2018 [J-TWO Sporting Goods/University Apparel, Inc.]. All rights reserved.
Information in this document is subject to change without notice.
Other products and companies referred to herein are trademarks or registered trademarks of their respective companies or mark holders.
2512 MOUNT HOLLY ROAD ~ BURLINGTON, NJ 08016
Names or insignia of particular organizations are not necessarily being sold under a license or other sponsorship from those organizations, and the manufacture and/or sale of products contained herein does not necessarily indicate approval by a national or local organization. It is the product manufacturers' intent that sales be only to and/or for members or alumni of the represented organizations.
"Special order purchases from local vendors are tantamount to a consent to use agreement or a limited license..."
Sarah Evans Barker, Judge, United States District Court, Southern District of Indiana
So ordered, 25 October 2004