SPIRIT WEAR
by J-TWO Sporting Goods
Standard Lettering Styles
---
Sewn-on Lettering Colors
BLACK
BROWN
BURGUNDY
COLUMBIA BLUE
CREAM (Beige)
CRIMSON
DARK GREEN
DEEP PURPLE
GOLD
GRAY
KELLY GREEN
KHAKI (Tan)
LILAC


MAROON
NAVY
NEON GREEN (Lime)
HOT PINK
OLD GOLD (Mustard)
ORANGE
PINK
PURPLE
RED
ROYAL
SHARK TEAL
TEXAS ORANGE
WHITE
VEGAS GOLD
---
Add-on Solid Lettering
Additional lettering for the backs of Shirts, Sweatshirts, Jerseys, & Windbreakers
2" single Block letters or numbers: $1.00 each
3" single Block letters: $1.50 each
3" single numbers: $2.00 each
4" single Block letters or numbers: $2.00 each
6" single numbers: $3.00 each
8" single numbers: $5.00 each
10" single numbers: $8.00 each
Note: Prices for single lettering only. Contact us by e-mail for pricing on doubled, Shadowed, or Triple-Fat letters (TM).
---
Embroidery Fonts
7 Fonts now available for your full jacket-back design at no additional cost: Script, Deluxe Script, Block, Old English, Asian, Broadway, Times
Brush Script is slightly higher...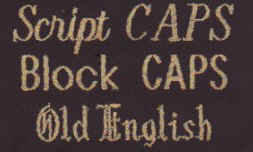 Note: All lettering on this sample was embroidered at the same size.
=> new fonts: ASIAN (CAPS only), Broadway (CAPS also available), Times.

Note: All lettering on this sample was embroidered at the same size.
=> another new font: Deluxe Script

Actual embroidery sizes vary, depending on garment and lettering placement. Additional embroidery may vary from $2.00 - $6.00/word, depending on size for most fonts.
---
Embroidery Fonts for Word Patches
Embroidered word patches are available at an additional cost for small words and for large words (sleeves & back-designs), when not included in the standard design price.
When not included, the pricing is as follows:
10 mm to 19 mm = $3.00 per word
20 mm to 25 mm = $4.00 per word
26 mm to 38 mm = $5.00 per word
39 mm to 50 mm = $7.00 per word
51mm to 69 mm = $10.00 per word
70mm + = based on stitch count
Fonts now available for embroidered patches only:
Asian Special (with upper and lower cases), Athletic Block, Basic Script Special, Block Special, Brush Script, CIRCUS (caps only), Cursive, Deluxe Script Special (no numbers), Diana

, Felt Tip, Hobo, Isadora, Latin, Bubble Greek, Mega Greek, Old English Special (w/ numbers), OUTLINE, Reggae, ROMAN (caps only), Seaside, STENCIL (caps only), Times Special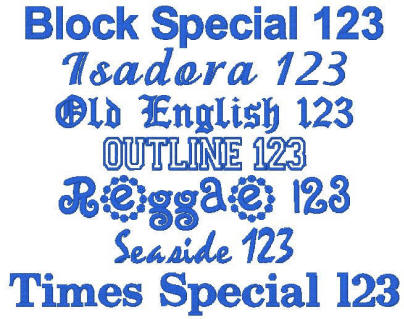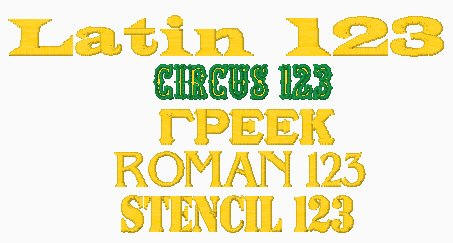 NOTE: For sleeves of mesh jerseys (like baseball or hockey) and leather items, we use embroidered word patches only.
Non-standard fonts available for embroidered word patches at a special price+:
Arabic-style, Benson, Gargoyles (not shown), lowercase Greek (not shown), Juice, Viking, Curlz

These styles are not available for small names, but can be used for larger designs.
+These special styles are individually digitized per order. Cost will vary depending on actual lettering required.
back to the top
---
Embroidery Thread Colors:
BLACK
COPPER
BROWN
RED
BURGUNDY
CRIMSON
MAROON
COLUMBIA BLUE
ROYAL
NAVY
TEAL
APPLE GREEN
KELLY GREEN
DARK GREEN
MIDNIGHT GREEN

YELLOW
GOLD
OLD GOLD
GRAY
CHARCOAL
ORANGE
PINK
HOT PINK
MAGENTA
LAVENDER
PURPLE
DARK PURPLE
KHAKI (Tan/10KT gold)
CREAM (Beige)
WHITE
---
[ J2SPORTS Home | Directory | Caps & Scarves | Bags | HBCU Selections ]
[ Aprons | Blankets | Jewelry | Satin Stoles ]
[ Lettering Styles | Symbols ]
[ T-Shirts & Polo Shirts | Long-sleeve Shirts | Sweatshirts ]
[ Jerseys | Sweaters | Jacket Selections ]
[ Order NOW | Contact US | About Us | University Apparel, Inc. ]
Privacy Statement/Terms of Use
J2SPORTS is a trade name of J-TWO SPORTING GOODS, founded in 1996, which is a subsidiary of University Apparel, Inc. For more information about this website, please contact the webmaster.
The items shown on this website are not marketed nor offered for sale as ready-made or in-stock retail items for any specific organization, unless specified as such. Photos are shown as examples of the work that may have been done in the past and/or that may be made for your particular organization.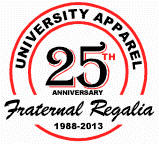 Copyright © 1999-2021 [J-TWO Sporting Goods/University Apparel, Inc.]. All rights reserved.
Information in this document is subject to change without notice.
Other products and companies referred to herein are trademarks or registered trademarks of their respective companies or mark holders.
Names or insignia of particular organizations are not necessarily being sold under a license or other sponsorship from those organizations, and the manufacture and/or sale of products contained herein does not necessarily indicate approval by a national or local organization. It is the product manufacturers' intent that sales be only to and/or for members or alumni of the represented organizations.
"Special order purchases from local vendors are tantamount to a consent to use agreement or a limited license..."
Sarah Evans Barker, Judge, United States District Court, Southern District of Indiana
So ordered, 25 October 2004