ORDER NOW
---

Gift Cards
Gift Cards are available in any amount from $10.00 to $500.00. They make the perfect gift and can be ordered in-store or on-line. For Terms & Conditions, visit http:///www.FraternalRegalia.com/giftcards.html.
DESIGN A: Physical Gift Card
Pick up in our store or have it mailed for $2.00.
DESIGN B: eGfit Card
Have a virtual card emailed to your recipient at no additional cost.
---
Thank you for your interest in ordering your custom items from The GREEKSHOP™. Please read our company policies before placing your order.
Placement of any order (either on-line, by fax, or by mail, in person, etc.) confirms your agreement to these terms and policies.
For your convenience and safety, your order will be submitted to a secure server.
By clicking on the "Place my Order NOW", the "GREEK EXPRESS SERVICE", or the "Express Checkout", links below, you agree to all the terms and are ready to place your order.
I Do NOT Agree
I am not yet ready to order and will continue to browse.

back to the top
---
I am not yet ready to order.
Please provide me with a
PRICE QUOTE
---
Thank you for your interest in ordering your custom items from University Apparel, Inc. If you would like to send us your design for pricing, please select the appropriate form (*.pdf) email it to price@thegreekshop.com in *.jpg or *.pdf format
Note: Please include your Name, telephone number, and e-mail address, so that we may respond to your request.
T-shirt Form | Polo Shirt Form
Long-Sleeve Form | Hooded Sweatshirt Form | BDU Form
Baseball Jersey Form | Pullover Jacket Form
Jacket form | Cardigan Sweater Form | V-neck Sweater Form
To get your free Adobe Acrobat Reader, visit http://www.adobe.com/acrobat
---
[ Gift Selections | Bags | Caps | Scarves ]
[ Shirt Selections | Sweatshirts | Sweaters ]
[ Jersey Selections | Windbreaker Selections | Jacket Selections ]
[ Directory Page | Lettering Styles/Symbols ]

[ FraternalRegalia.com | Non-Greek Organizations | J2SPORTS: school/team ]
[ TheMAAC.com | G-Gear | IotaWear.com | ElkExpressions.com ]

[ ORDER NOW | Request an Order Status | Policies ]
[ Guestbook | About Us | Home ]
Privacy Statement/Terms of Use
The items shown on this website are not marketed nor offered for sale as ready-made or in-stock retail items for any specific organization, unless specified as such. Photos are shown as examples of the work that may have been done in the past and/or that may be made for your particular fraternal organization.
The GREEKSHOP TM is a trade name of University Apparel. "TheGREEKSHOP.com" (TM) is the sole property of University Apparel and neither "The GREEKSHOP" nor "TheGREEKSHOP.com" may be used without written authorization. For more information about this website, please contact the webmaster.
TGS, the Temple logo, and the words Tau Gamma Sigma, are marks of, stand for, and are representative of "The GREEKSHOP" by University Apparel, and are not reflective, inclusive, or indicative of any other past or future fraternal organization.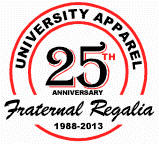 Copyright © 1997-2018 [The GREEKSHOP TM/University Apparel]. All rights reserved.
Information in this document is subject to change without notice.
Other products and companies referred to herein are trademarks or registered trademarks of their respective companies or mark holders.
Greek letters, name, or insignia of particular fraternal organizations are not necessarily being sold under a license or other sponsorship from those organizations, and the manufacture and/or sale of products contained herein does not necessarily indicate approval by a national or local organization. It is the product manufacturers' intent that sales be only to and/or for members or pledges of the represented fraternal organizations.
"Special order purchases from local vendors are tantamount to a consent to use agreement or a limited license..."
Sarah Evans Barker, Judge, United States District Court, Southern District of Indiana
So ordered, 25 October 2004
Products for Greek Licensed groups may be subject to additional licensing fees. Contact us for more information.